During this chilly, winter season, a good book and movie are always welcome! Thankfully, wholesome
books
are in abundance but
movies
are more of a challenge. I wanted to share with you the following gem...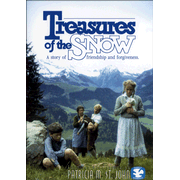 "High in the Swiss Alps, little Danny disappears. When he is found---alive, but seriously injured---his sister, Annette, vows revenge. Lucien, who caused the accident, escapes to the forest where he is taken in by a godly old woodcarver. Lucien wants to make amends, but will Annette learn to forgive him? Treasures of the Snow was filmed in the breathtaking Swiss Alps. The charm of genuine antique chalets will delight you. And you will experience real life drama, the tensions of ordinary people under pressures and the satisfaction of righteousness rewarded." ~ From the Publisher
There is also the excellent book (for 8-12 years) which inspired the movie.
Treasures of the Snow by Patricia St. John
illustrates forgiveness to our young ladies in a very realistic way that is sure to turn hearts toward the Savior.
Wholesome entertainment is hard to find but these are truly some of the best out there! Though the movie isn't to today's standards of fancy filming, the excellent message outweighs it.
Scripture that Summarizes the Story:
"And be ye kind one to another, tenderhearted, forgiving one another,
even as God for Christ's sake hath forgiven you."
~ Ephesians 4:32