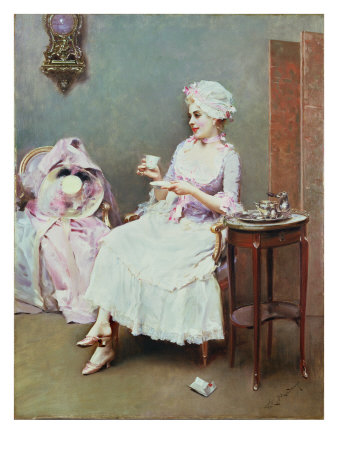 Hot Chocolate
by Raimundo De Madrazo Y Garetta
A cold winter day, a blazing fire, a book… What is missing? Cocoa, of course!
Have you ever made some from scratch? Why not bless your family tonight with a tray of mugs laden with hot chocolate? Be lavish… Add dollops of freshly whipped cream or some nice and thick, homemade marshmallows. These small details in life will enrich the memories of all. You will delight them with the pleasing aroma and comfort them with the warmth of a steaming cup in their hand…
Though is seems by the painting above that the French really understood how to appreciate the tasty things of life, it is said that George and Martha Washington enjoyed hot chocolate together when it was still a European treat. They used to drink their imported cocoa daily out of gold and white porcelain cups which they would refer to as "chocolate cups". You can find Mrs. Washington's recipe here.
Questions for mothers and maidens:
Do you know where chocolate first originated?

Do you know what European country was the first to embrace it?

Do you know what countries grow it today?
Why not prepare a pretty tray and dust out those dainty mugs and enjoy an evening of "sweet" fellowship with your family before spring makes her entrance.
"A generous man will prosper;
he who refreshes others will himself be refreshed."